All of us at Find-A-Pet are thrilled when we can help reunite lost pets with their owners. So if we've helped reunite you with your pet, please let us know. We would like to include your story as one of our features. Send us a picture of you with your pet and we'll include that with the story.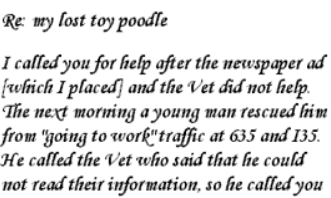 Featured Success Stories
Sponsored by:

[ Home ] [ About ] [ Lost & Found Report ] [ Success Stories ] [ Animal Shelters ] [ Sponsors ] [ Contact Us ]
© 1999 PetData Inc. All Rights Reserved.
An Ariesnet Production. Send feedback here.